Precise Alignment of Propulsion, Steering, and Weapon Systems Pays Off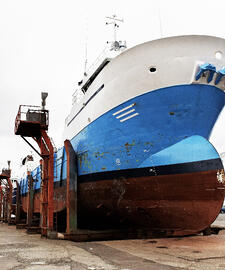 Marine vessels carry unique alignment challenges. Fundamentally, these structures are not rigid due to their size, dynamic forces acting on the hull, and temperature fluctuations experienced during operation. As a result, propulsion, steering, and weapon systems require periodic checks and realignments. Precision alignments performed during a dry dock outage help assure the proper waterborne operation of these systems.
Brunson is a leader in precision alignment services and solutions for the maritime industry. We aid in the construction and maintenance of many critical path components, such as:
Ships:

main engines
reduction gears
propeller and drive shafts
support bearings
stern tubes
rudder bores

Submarines

Periscope

Optics rail
Fairing straightness
Inspection and installation

Torpedo tray and missile tube
These systems have many interrelated components. The critical geometric relationships between them must be set correctly. Misaligned equipment leaves a vessel vulnerable to a host of issues ranging from bearing vibration and excessive wear in rotating components to strut and hull damage or leakage. The cost of a system malfunction while underway can be staggering.
Whether you are working on new fabrication, a rebuild project, or a vessel that just needs to get back in the water, we can help. The optical instruments we employ are ideally suited for this environment, having measurement accuracies of ±0.001 inch per 17 feet. We can inspect, evaluate and guide the adjustment of components in hard-to-reach places. We have the technology and experience to manage the critical geometric relationships onboard your vessel.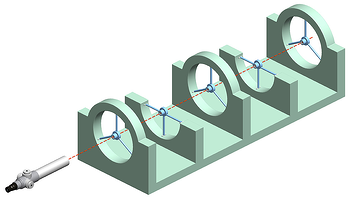 How it works
Let's discuss bore straightness as an example, since it is an extremely common alignment challenge. In this application, a precision optical instrument (an alignment telescope) is set to the rotational centerline. This is accomplished by orienting the instrument precisely to the engine output shaft or to targets in the near and far bearings. Subsequent measurements are taken to determine deviation from the optical centerline at key bearings or bores in the system.
These measurements are performed quickly and bring significant benefits, including:
Proper load distribution in support bearings
Reduced vibration in rotating components (which can damage transmissions, engine mounts, or the boat hull itself)
Reduced critical failures such as bent or broken shafts
Reduced main engine crankshaft web deflections for longer engine life
Improved mesh on reduction gear sets, minimizing unwanted gear tooth stresses and noise
Proper alignment of periscope components and assemblies
Efficient weapon deployment through alignment of torpedo trays and tubes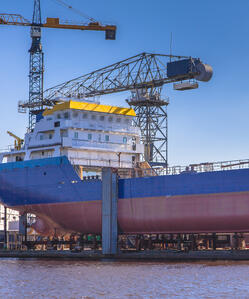 A Name You Can Trust
Brunson has been providing innovative alignment solutions for decades. As a premier manufacturer of high precision metrology instruments and accessories, we use fully calibrated and documented equipment to meet your internal quality standards. The work is documented electronically to show what was inspected or aligned, how it was done, and all the appropriate before and after machine positions.
It Pays for Itself
Customers often tell us that our services pay for themselves within days and weeks, not months or years, with cost benefits continuing to grow after that. Contact us to learn more about how precision machine alignment can improve your marine propulsion, steering, or weapon systems…or schedule an on-site visit to get your equipment running at peak performance.