Straighter boards, higher output, longer lasting equipment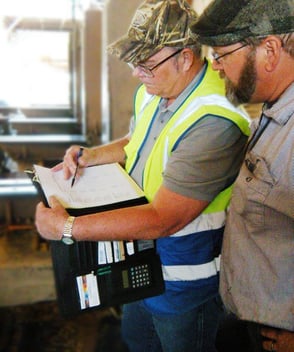 Recovery. Deviation. Wedge. Kerf. Your mill prospers or perishes by these measurements. As the lumber industry continues to recover, it does so by discovering new ways to increase productivity. Precision optical alignment is one of those discoveries now saving millions of dollars a year by increasing log recovery and board quality.
Brunson is a leader in precision alignment services and solutions for the timber processing industry. Our service team boasts over 30 years experience with all kinds of sawmill machinery:
Infeed section
Head rig and carriage
Overhead end-dogger
Sharp Chain
Chip-N-Saw
Quad and twin band saws
Horizontal re-saw
Curve saw
Gang edge
Board edger
Trimmer
Planer
Whether you have a new installation, are troubleshooting a pesky machine section, or need ongoing maintenance to optimize your mill's performance, we can help. Mill personnel often think "the alignment is good enough" until they see the major impact our services provide. We have the technology and experience to help your mill run like it's never run before…really. Just give us a weekend, we'll show you.
How it works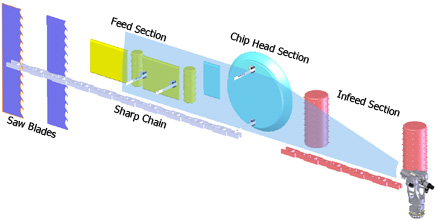 A precision optical instrument called a jig transit is mounted to the machine frame or other stable platform, where its line-of-sight is then set to the machine centerline. This produces a reference plane for aligning components on both sides of the machine quickly and accurately. This technology is effective on machines throughout the mill with measurement tolerances of ±0.002 of an inch for every 34 feet of viewing distance. The work moves quickly and brings a long list of benefits, including:
Straighter cuts at faster speeds for a longer time, by minimizing side forces on saws
Reduced deviation, improving lumber quality and providing more value from every board foot
Increased output without increasing wood costs by allowing thin kerf saws to run better
Less wear and tear on machinery, because vibration is minimized by proper alignment
Dramatically increased recovery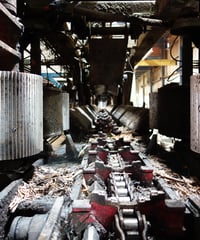 A Name You Can Trust
Brunson has been providing innovative alignment solutions for decades. As a premier manufacturer of high precision metrology instruments and accessories, we use fully calibrated and documented equipment to meet your internal quality standards. The work is documented electronically to show what was inspected or aligned, how it was done, and all the appropriate before and after machine positions.
It Pays for Itself
Customers often tell us that our services pay for themselves within days and weeks, not months or years, with cost benefits continuing to grow after that. Contact us to learn more about how aligning your machines can improve your bottom line…or schedule an on-site visit to get your mill running at peak performance.